Mortgage Rate Forecast 2024-2025
Here's the latest news, from the Mortgage Bankers Association (MBA); Mortgage Rate Forecast 2024-2025
According to MBAs insights there is a suggestion of rates remaining higher through 2023 with rates beginning to drop in 2024 and further in 2025.  So if you're waiting to make any decisions keep that in mind that Real Estate prices continue to climb which means you're more than likely to pay a lot more in the future versus sucking it up and buying now. You can always refinance when those rates finally drop, but you can't reset the price you paid for the house.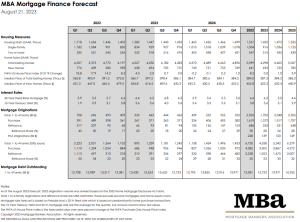 Mortgage Rate Forecasts can be tricky
The thing to remember with forecasting, is it's similar to reporting on the weather. Things change. Forecasts are often wrong. Mortgage Rates move most closely with the 10 year treasury bond. And the 10 year treasury bond moves most closely with inflation. That said, no matter what the mortgage rate forecast is, as soon as we see economic conditions shift you can bet the farm that mortgage rates will shift too.
Many experts including Barry Habib thought we would already be in the 5's again. But even the 3 time Crystal Ball recipient was wrong.
You need a co-pilot to help you monitor Mortgage Rates
Now lets talk about why its important to have professionals like New Way Mortgage monitoring these rates for you. All you wouldn't cut your hair would you? So why take risks when it comes to mortgage rates? With experts from New Way Mortgage by your side they will keep track of the rates so that you don't have to.
Timing plays a role when it comes to making decisions. With our assistance we can help you determine the time to jump into the market and secure the possible deal for yourself.
Moreover each mortgage is unique –, like your grandmas meatloaf recipe! That's why we offer tailored advice that takes into account your circumstances and requirements. We can customize a loan that perfectly suits your needs.
Final Thoughts
Keeping track of mortgage rates can be a task. No need to worry. Leave it to us at New Way Mortgage. We have the tools and expertise to keep you informed and ahead of the curve. So if you're wondering when rates will decrease lets have a conversation!
Have questions? We got you 👍 Connect with us 👇
📞 Talk or Text 916-570-6979
🤝 Schedule a FREE No Hassle Appointment  😀
📺 YouTube Channel with 99% of your Answers